How to create/ change Fund Transfer Pin in IOB Internet Banking? Mobile Payment Services in IOB . IOB IMPS NETF RTGS Fund Transfer Pin Create on Internet Bank, Mobile Payment Services.
Whatever you make these days everything is related to internet and most of us cannot make things happen without using internet. It is always easier to do things at your own place rather than going to some other far away places to get things done.
Internet banking has become a vital part in today's banking system and services, it is easy to do things using internet rather than going to bank and asking for services to those service providers. Internet banking has now widened its wings and widespread activities are being done by the various banks to promote internet banking services.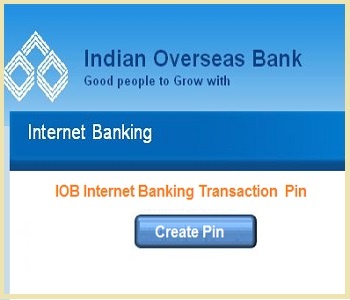 Moreover customers are also opting internet banking for their convenience and also ease. Here is the article helping you to create or change your fund transfer pin in IOB internet banking.
IOB IMPS NEFT RTGS Fund Transfer Pin Create on Internet Bank
Here are the few easy steps that help you get what you are searching for.
Step 1 :
The first step will require you to open the website with web address https://www.iobnet.co.in/index1.html which will redirect you to the IOB bank website.
Step 2 :
Once you open the website you will be able to see on the left side of the page two options saying individual login and corporate login. Click on individual login.
Step 3 :
In this step enter your login id and password and then once your login id and password are verified you will be logged in into your account.
Step 4 :
On the next displayed screen click on 'edit profile'
Step 5 :
Select 'change pin'. Then you will required to enter your old pin and your new pin and then click on submit.
Please note that the pin should be of 4 digit numerical value and no alphabet is acceptable.
Step 6 :
Once you are done you will be redirected to a page which displays" IOB Net Banking Pin Has Been Changed Successfully".
You will get a mail acknowledging your change of pin for IOB fund transfer.
Mobile Payment Service in IOB
Mobile payments services in IOB are the fastest and are very useful to its customers. All the Indian overseas Bank account holders can opt for IMPS, immediate mobile payment service. All that the customers need to do to avail this facility is to register their mobile number with Indian overseas Bank.
Customers can transfer an amount of ₹50000 to the maximum using this IOB IMPS service. At present no service charge is being collected by the bank for rendering this serotonin its customers. IMPS is the fastest and the easiest source for transfer of money between inter banks.
In this facility, customers can have an advantage that both the sender and the receiver of the money will get a message informing about the transaction which safeguards the interest and the financial assets of the customers. Regardless of the timings and holidays the fund will be transferred from one account to another within few minutes and many customers are happily using this IMPS service by IOB.
Hoping the article is informative and helpful to you in changing your pin of fund transfer of IOB.