How to know Indian Overseas Bank (IOB) Account Balance by SMS, Net banking? How to Find IOB Account Balance through SMS / Internet Banking .
Indian overseas Bank is one of the majorly operated public sector banks in India. The bank plays major role in banking sector in India with a huge branch base of about 3400 branches all over India.
The bank also has ATMs of about 3300 spreading all over India providing services to all kinds of people. Indian overseas Bank always tries to serve its best to its customers hoping to satisfy the needs of their customers. All that is needed to retain customers of any company is to satisfy the needs, that is what is being done by the management of Indian overseas Bank.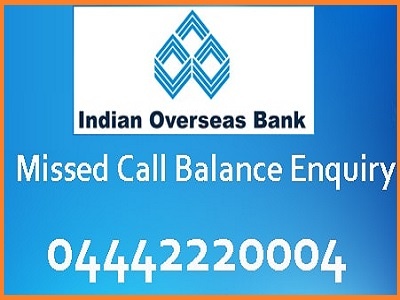 With the changing scenario and the digitization, the Indian overseas Bank has opted to provide online services to its customers through provision of mobile and internet banking services. The evolution of internet banking and the mobile banking has helped both the customers and the organizations to save their time and as well the physical effort. People can get to do their work through online without visiting banks all the time and wasting time by standing in queue for getting their service done.
You can also view your balance that you have in your account just by sitting at your home by using various methods like SMS, internet banking and online. If you are searching to check balance of your IOB bank balance then you are at the perfect place, here is the article helping you to know your IOB bank balance just by following few steps.
Knowing Indian Overseas Bank (IOB) Account Balance by SMS:
You can easily get to know your account balance through SMS by following the below mentioned steps.
To avail this opportunity one needs to get their mobile phone number registered with the IOB account.
All that you need to do is to send a message to the number 8424022122, asking for balance enquiry. The Performa you need to follow while sending the message is 'BAL /space/ last 4 digit Account Number.
Here with this you have requested for your balance enquiry and that you will receive your balance information to your registered mobile phone number within few hours.
Knowing Indian Overseas Bank (IOB) Account Balance by using Net banking?
The days have changed and now most of us use net banking to do most of our bank transfers and details.
Here are the few steps to know your balance of IOB bank using your Net banking.
For availing this facility all that you need to have is Net banking option provided by this IOB bank.
All you need to do is to open the website with web address https://www.iobnet.co.in/index.html
That is the page of the IOB bank netbanking and you need to login to your netbanking account of IOB bank using your user ID and password.
After logging in click on the option balance enquiry to check your IOB bank balance.
Hoping the article is informative and is useful for you to know your balance enquiry.