How to open HSBC FD Account Online? Know about HSBC Bank Fixed Deposit Interest Rate online at hsbc.co.in/
The HSBC bank also provides fixed deposit facility for all the customers. There are basically two types of fixed deposit accounts that are made available by the bank to its customers which include FD with premature withdrawal facility and FD without premature withdrawal facility. However the amount in your FD without premature withdrawal can also be withdrawn under certain circumstances by paying some percentage of penalty to bank.
The minimum period for fixed deposit is 7 days and maximum for the same is 4 years. The minimum amount that one should credit to their FD account is rupees ten thousand. Customer should submit their identity proofs as well as address proofs to open fixed deposit account with HSBC bank. The interest rate on the FD account varies from 3.25 percent to 4 percent based on how long you keep your fixed deposit or the tenure you opt for the fixed deposit account.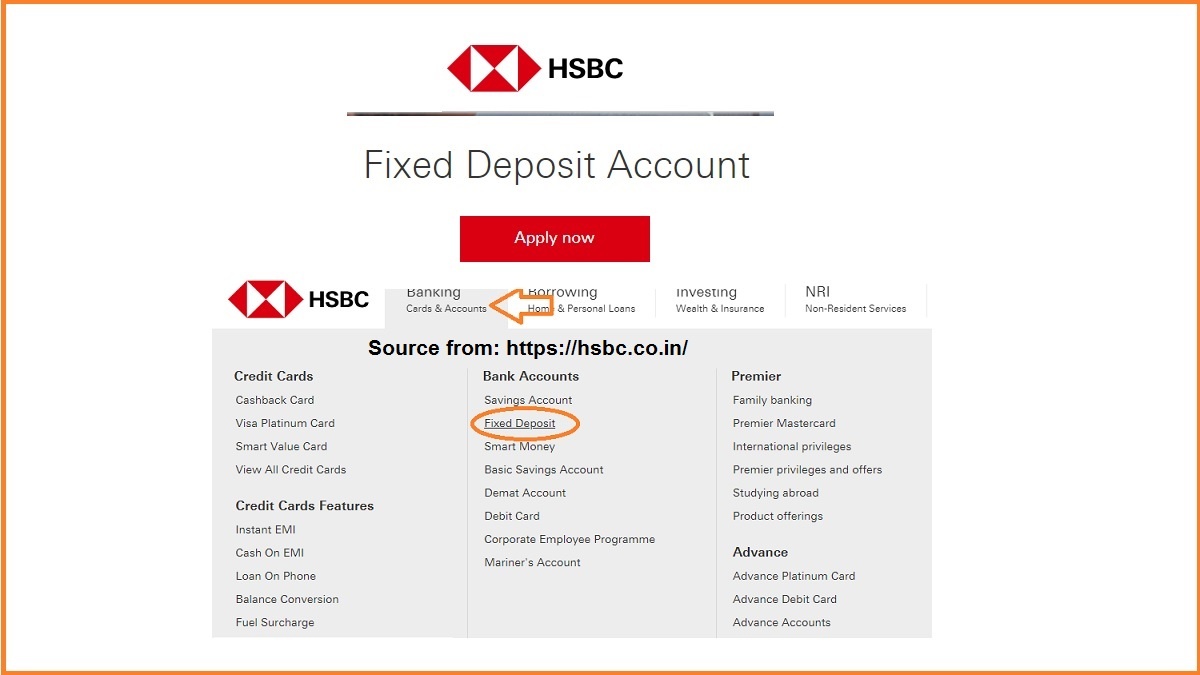 Know about HSBC FD Account online
Here are the steps that can help you opt for HSBC Fixed Deposit (FD) Account online :
If you are already a customer of HSBC then you can directly login to your internet banking service and go to accounts section available in the net banking.
Then search for option which says open new fixed deposit.
Next you will be required to select the currency you want to deposit.
In this step you will be asked to select the tenure for which you want to choose fixed deposit for.
In the next step provide your account details from which the money to your new fixed deposit account has to be debited.
Now enter the amount of rupees you want to credit to your new fixed deposit account in the section which says 'amount to debit'.
Then click on open option. Then a page appears displaying all your information that you have provided earlier. Click confirm.
You have now successfully opened fixed deposit account with HSBC bank.
The HSBC bank always work together to achieve the full satisfaction of its customers by providing various services and so provides customer service desk to deal with the customers problem at all levels making sure that all the customers are given much priority. Here are the list of some customer care numbers you can contact.
In case of any issues you can contact the customer service numbers as provided below.
Personal Banking: 800-975-4722
HSBC Premier Banking: 888-662-4722
HSBC Advance: 866-584-4722
How to open HSBC Bank Account Online
Keep following the page for more updates and more information on banking and other related services.