How to Book Train Tickets on online at irctc.co.in? How to Login IRCTC for Train Ticket Booking? How to Book IRCTC Advance Train Ticket through online at IRCTC website
Booking train tickets online is as easy as drinking a coffee these days, all you need is a mobile phone, good internet connection. Despite the olden days where people used to stand in lines hours together just to fill a reservation form and never sure that we got the reservation or not. Sometimes after all the wait the reservation used to get closed and all the strain would go without any result. Over the years with the development of technology and mobile phones things have become easy and no one goes to railway station these days to book reservation of railway tickets. Here in this article let's have a brief summary on how one can book train tickets in online at IRCTC website without any difficulty and trouble.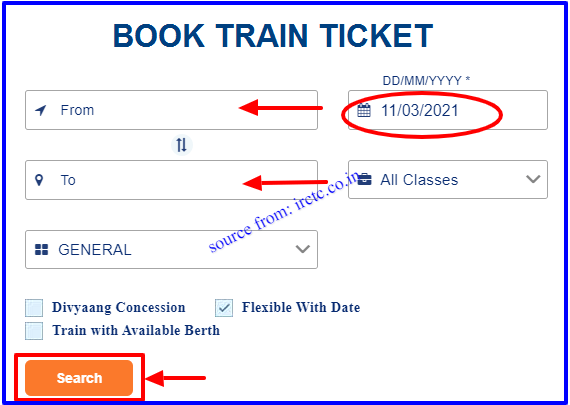 IRCTC Advance Train Ticket Booking through Online
All you need to do in the first step is to go to the official website of IRCTC which is irctc.co.in
Then you will asked to login to your IRCTC Account, login using your user name and password or else you can create in that page if you do not have one.
A page appears with option 'book now'. Click on book now option.
A new page open wherein you will be required to provide your TO and FROM destinations and then select dates.
Then you will be displayed with a list of trains running on the specific day you have selected and in the specified route you have selected.
Then you can look for availability of the seats from the various trains provided on the screen.
If you see availability then click on passenger details option which you can see in the page.
Enter the passenger details like the name of the passenger, age, sex and you can also add preferred berth.
In the next page you will be continued with payment option, you can pay using your credit card, debit card, UPI ,Paytm, phone pe and various other digital payment modes.
Once your payment is successfully done you will receive a message and also a mail to your specified email ID confirming on your payment and also the details of your train as well as the berths allocated to you.
And that it you are all set to start packing for your journey. You can also download IRCTC application from play store and follow the same steps and book a train ticket online without being feeling stressed and within few minutes.
Hope the article is useful and informative and keep following the page for more updates and information.