How to Get OBC Bank Mini Statement through Missed Call/ SMS? OBC Bank Account Statement through SMS/ Missed call/ Internet Banking.
The oriental bank of Commerce is in India from 1943 and has been a public limited bank providing specialized banking services to its customers all over the country.
The strong dedication of the staff along with the huge support from the general public made the bank on form and helped to serve the customers without any break or any deviations. Head quarters in Gurgaon, the bank has a huge base with hundreds of bank branches and so the ATM services to help the customers all around the world.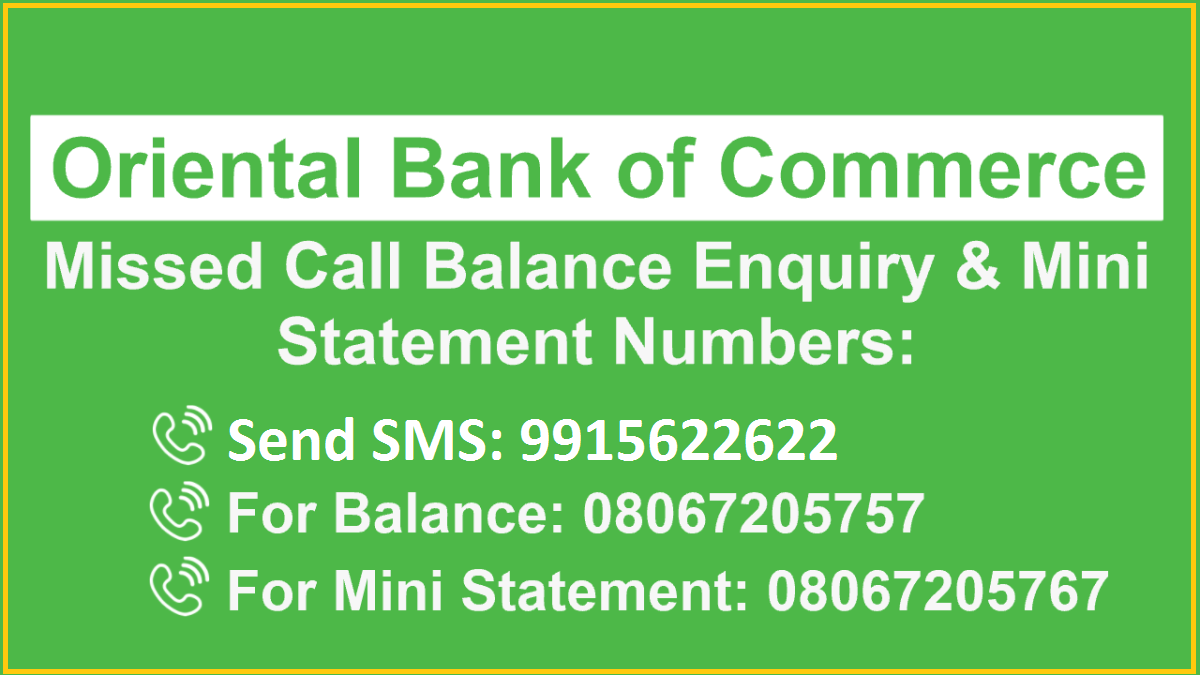 With the advancement of the internet and the availability of the internet all around the world, the oriental bank of Commerce also has started its operations through online making it easier for the customers as well its own employees. Customers can easily get things done using their net banking service provided by the Oriental bank of Commerce. It takes minimal effort to activate your net banking account and all you need to do is to follow the basic steps as suggested in our earlier article.
In this article let's get a brief understanding of how to get oriental bank of Commerce mini statement.
You can get the mini statement of your bank by giving missed call or sending a SMS or even by using your ATM card. Here we will have a look at the steps required to get your mini statement through missed call or SMS.
Get OBC Bank Mini Statement through Missed Call/ SMS
BY MISSED CALL
All you are supposed to do is to give a missed call to the service number of the Oriental bank of Commerce 91-8067205767 from your registered mobile number.
The call automatically disconnects and you will receive your bank account balance and other details to your registered mobile number within few minutes.
BY SMS
In this method you will be required to send a SMS to the customer care people of the Oriental bank of Commerce. The Mobile number you are supposed to send SMS is 9915622622.
There is a specified format that you are supposed to send SMS. You need to enter AC/ BAL and then enter your 14 digit account number and then you are ready to send your SMS to get mini statement.
BY NET BANKING
You can also get your mini statement through internet banking by using your username and password.
Once you login to your account then go to your account statement and enter your date which you want.
Then click on submit, your account statement is displayed on the screen.
Take print out of the statement/ save in your system/ mobile.
Hope the information provided has helped you to check your mini statement and keep visiting the page for more updates regarding the Oriental bank of Commerce services and other details of the bank.