OBC Bank ATM Card Pin Generation through ATM/Net Banking/ SMS, Oriental Bank of Commerce OBC Bank ATM Card pin Generation through SMS..,
The Oriental Bank of Commerce (OBC) was one of the oldest banks in India and has a large number of branches serving large amount of customers.
The bank has been nationalized on April 15th 1980 says how old the bank is. The bank has started its operations in the year 1943 and has successfully managed to expand to wings to many parts of the country.
It was during the 1970 and 1976 that the banking sector has faced many challenges and the bank has seen a phase where the bank owners decided to shut down the bank, and there came the employees asking them not to shut down the company and indeed all the employees came forward to help the company from the losses. The owners has decided to take the help of it's people and then refurbished its operations successfully.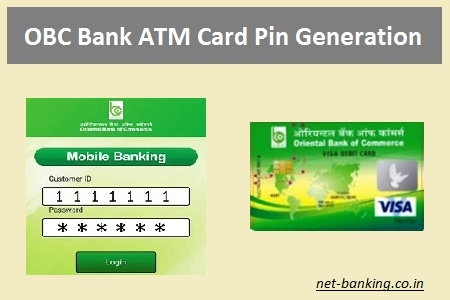 The Oriental Bank of Commerce has now been merged into the Punjab National Bank on 1st April 2020 and with this merger the Punjab National Bank has became the second largest bank in the country.
The OBC bank also provides its customers the facility of net banking and phone banking making it user friendly.
If you looking for how to obtain ATM pin number of OBC bank cards then you are at the right place and below are the steps that will help you to do so.
You can get your pin using various methods which include pin reset through SMS, using net banking and ATM.
Change or Reset OBC Bank MPIN for Existing Customers
OBC Bank ATM Card Mpin Generation through SMS
You can do this easily through SMS mode.
All you need to do is to send a message from your registered mobile number.
People are supposed to SMS PIN **** **** from your registered number.
The first four stars resemble your last four numbers of your debit card and then space is provided and the last four digits of your account number linked to that debit card.
OBC Bank ATM Card Mpin Generation through ATM
You can also change your pin using your debit card by reaching out to the nearest ATM.
The first step will require you to select your preferred language and then select pin management options from the various options that can be viewed on the screen, select green pin and then opt for OTP generation.
OTP will sent to your registered mobile number, enter the OTP number and then you will be able to change your pin, re entry your pin and click confirm.
OBC Bank ATM Pin Generation through Net Banking
You can also do this using your net banking service provided by the bank.
Login to the mobile banking application of the OBC bank,
And then click on the hamburger menu which you can find on the left top corner of the screen.
Then click on card services and then click on debit card pin generation.
Then you will be displayed with a screen where you are supposed to select your account number details from the drop down box that is available and also enter your debit card details.
Then enter your new pin twice and then click submit.
Then you will be asked to enter your Mpin of your mobile banking for verification.
Enter you Mpin and then click verify. Your debit card pin will be successfully changed using any of the above methods that had been provided.
Hope the article is informative and has provided information all that is required for you.
STAY HOME STAY SAFE