How to Register Dena bank Internet banking, Mobile banking for new users, How to Login Dena Bank Internet Banking/ Net Banking and Mobile Banking Services Online at denabank.com
Dena bank is one of the public sector banks owned by government. It has been established 80 years ago is still into servicing it's customers on a large customer base. To satisfy the changing needs and wants of the customers, the bank now is offering it's various services through online. You can register with DENA bank internet banking services and get your work done at your door steps within few minutes.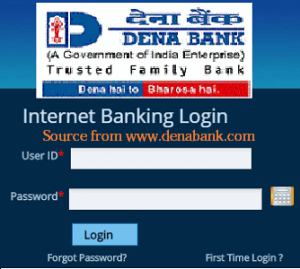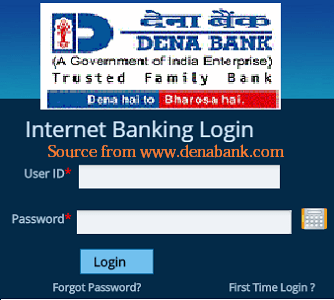 If you are waiting to create internet banking services to your registered account, then you are very near by and if you can follow the below steps and you can easily create your internet banking services.
Dena Bank Internet Banking, Mobile Banking Login Procedure
The following are the steps that help you get internet banking services for Dena bank:
In the first step before you start activation of your internet banking services, you need to make sure that your mobile number is linked to your bank account.
Once you are sure that your mobile number is linked, you need to visit the official website of the bank and click on INTERNET BANKING and then click on 'Forms and Terms and Conditions'.
There opens a new tab where you will find various applications forms, from the various options available open the application form that suits your bank account and your requirement.
Open the application form you require and take a print out of that application form. Fill in all the details asked in the application form. The details will include things like your name, bank account number, phone number linked, and other details regarding the bank account in Dena Bank.
Once you finish off filling in the details, you need to submit the filled application form in your Dena bank branch and they will verify your application form. If the verification of your application is done, then you will get a message from the bank containing user id to your registered phone number that you have provided earlier.
Using the user id provided by the bank, you can create your own password for your internet banking services, you can create your password by visiting https://denaiconnect.denabank.co.in and clicking "first time login".
Once you enter the login page, enter your user id and here you can generate your own password, you also need to enter your account number and after entering your user id and account number, click on submit.
After you proceed enter your ATM card number, ATM card details and also it's expiry date and other information. Click on VALIDATE option then you will get an OTP to your registered mobile number.
Enter your OTP and click confirm to proceed. On successful completion you can can set your password if you are a new user and then you can login to your internet banking account through login page by entering your user ID and password that you have created earlier.
For more details visit Dena Bank official website. Hope the article is informative and helpful to you to create your own Dena bank internet banking services.