Axis Bank Net Banking, New User Registration Process at axisbank.com. Axis Bank Internet Banking Login Procedure. How to Reset Login Password in Axis Bank.
Online net banking is a process where the financial transaction's takes place electronically. Now a day's, it has become a major part in banking system. People always wanted to do the tasks at very ease and this online net banking made possible for all financial transactions. Through net banking we can do many things like checking the bank balance, recent transactions information, send money to other account and even changing of ATM pin. All the banks are also providing the online banking facility. People slowly stopped going to banks and started doing all the transactions in the online itself.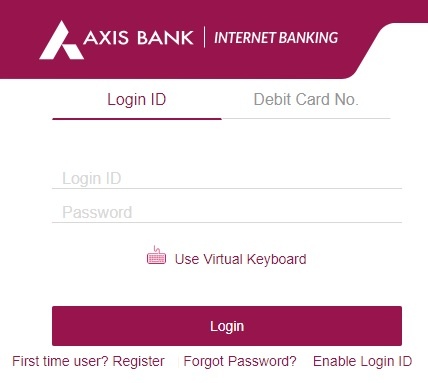 In order to do the online banking one has to have online banking login ID and Password. For that Registration has to be done as he/she is a new user. Let us see how this goes on for axis Bank.
Please find the process for New User Registration at axisbank.com
Axis Bank Net Banking & New User Registration Process
Once you get into the axis bank online banking website you will be asked to enter login ID and Password, below that you will find "First time user? Register". Please click on the link then you will direct to another page.
Enter Account Details: While opening the axis Bank account, bank will provide cheque book and welcome letter. In Welcome letter you will find the Customer Id. Fill the Id in the login I'd tab. If you are unable to track your welcome letter you can sent an SMS to 5676 782 as CustIDCC1234 (last 4 digits of CC from your registered number.
Enter User Information: keep your account number, ATM card details ready as you need to enter the details here.
Enter details: In this you need to enter some details related to Axis Bank account. Once this is done you will be directed to page where you can set the password.
Set New Password: Here you can set the password for the net banking for further use of net banking. Password should have at least one letter in Capital case and at least one should be in small case and one special character should be included. Password length should be between 8 to 13 characters.
Once the password is set you can use the Axis bank net banking by directly entering your login ID i.e customer ID and the password that you have set recently. Hope you have clearly understood the registration process for net banking at Axis Bank website.