OBC Bank Customer Care Number 24×7 Toll Free Number, Orientatal bank of Commerce Customer Care Number Toll Free Number. How can I complain to OBC Bank? OBC Bank Contact Number..,
The Orientatal bank of Commerce is one of the major public banks in the country of India. In huge country like India where the population is very huge, it will definitely be a challenge for the service sector which also includes banks to provide quality service to all the people of the country. The country with a varied cultures and values will demand for personalized services as per their own requirements. Banks need to keep monitoring the different options that customer would want as a requirement and make sure the banks make them available to the customers.
The Orientatal bank of Commerce is one of such banks that keep an eye on the changing markets and also the varied needs of the customers. The Orientatal bank of Commerce is one of the largest banks in India with head quarters in Gurugram with around 2300 bank branches all over the country and also has 2600 ATM centers.
The bank has a long history starting from its foundation which dates back to 1943 which is almost 77 years ago. There are various products and services provided by the Orientatal bank of Commerce to its customers includes Investment banking, Consumer banking, Commercial banking, Retail banking, Pensions, Mortgages, Credit cards, private banking and many other banking related products.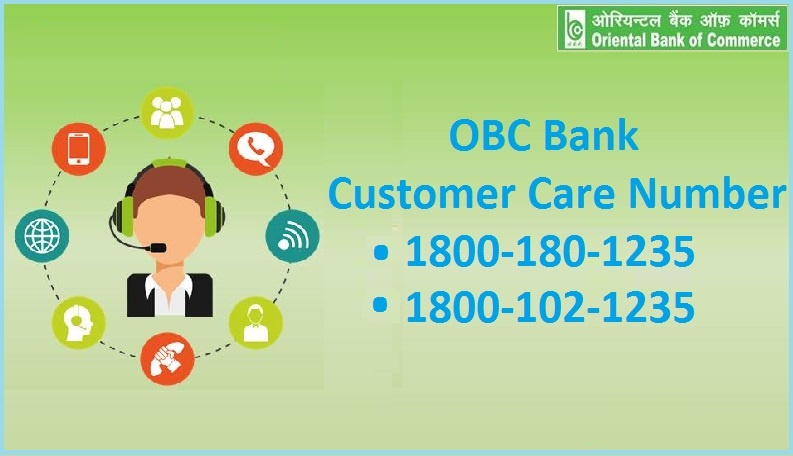 The Orientatal bank of Commerce has been merged with the Punjab National bank making it stronger and healthier. The bank also tries to expand its wings into various services and also providing its online services to its customers making it more convenient for the customers.
Here are the customer care numbers of Orientatal bank of Commerce which will help you to check out with your queries and issues related to the bank, banking services and also other related issues.
OBC Bank Customer Care Number 24×7 Toll Free
1800-180-1235
1800-102-1235
The above numbers are the toll free customer care numbers which you can contact at any point of time for any type of queries. The numbers can be used when you have any issues relating to debit card, credit card and also blocking of credit card and debit card. This number can also be used for any normal and basic enquiries and other requirements.
The team also helps with the clearing of customer service relating to ATM issues, ATM card pin change or generation, credit card limit information details and many more.
For more updates relating to Orientatal bank of Commerce keep visiting the page for fresh and clear updates about OBC bank.