Public Sector Banks Merged in India 2019. 10 public sector banks to be merged into 4 i.e, PNB, Union Bank of Bank, Canara Bank, Indian Bank.
When a government have major holding in a particular bank stake i.e more than 50% then we call that bank as Public National Bank. Today in India we have 12 Public Sector Banks along with one payments bank which is owned by central government.
Here payment bank have 100% of government holding. Even though it got license in 2015 it registered in 2016. This is started with the aim of utilizing the post offices all over India. It started with 650 branches. As of now it has captured one and half crore customers.
Usually these public sector banks will be listed in Stock Exchanges. This was all started in 1955 when government thought of getting into banking sector by nationalizing Imperial Bank of India. Then after, it changed its name into State Bank of India. After that 7 other state banks also merged into it, in 1959. In the same pace share public sector banks have been increased in banking industry throughout the period. Until 2019 there are 8 banks in the list of Public National Bank. They are Bank of Baroda (63.74%), Bank of India (87.0535%), Bank of Maharashtra (87.01%), Central Bank of India (88.02%), Indian Overseas Bank (91%), Punjab & Sind Bank (79.62%), State Bank of India (61.00%) and UCO Bank (93.29%). Here % indicates government share holdings.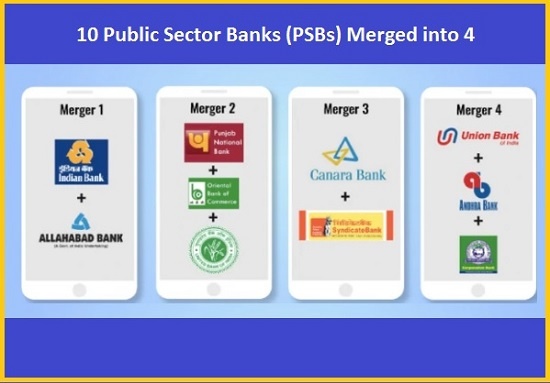 Finance Minister Nirmala Sitaraman on August 30th 2019 had made a huge announcement that other 4 banks are going to be consolidated into Public National Bank in the near future.
Merged Public Sector Banks (PSBs) in India 2019
Details of that 4 banks Recently Merged as Public Sector Banks (PSBs) in India are:
Punjab National Bank with 70.22% government shareholding, Oriental Bank of Commerce with 77.23% government shareholding and United Bank of India with 92.25% government shareholding will now become Punjab National Bank.
Union Bank of India with 67.43% government shareholding, Andhra Bank with 84.83% government shareholding and Corporation Bank with 84.96% government shareholding will now become Union Bank of India.
Indian Bank with 81.73% government shareholding and Allahabad Bank with 79.41% government shareholding will merge together and become as Indian Bank.
Canara Bank with 72.55% government shareholding and Syndicate Bank with 81.23% government shareholding will together form as Canara Bank.
Now we can say this as 10 different banks merge together and became 4 banks that are:
Punjab national Bank
Union Bank of India
Indian bank
Canara Bank
Before these merges of 10 into 4 banks, 27 banks altogether merged as 12 banks. After so many permutations and combinations about the feasibility of the banks these decisions have been made.