UCO Bank Netbanking Registration and how to create Internet banking for new users at www.ucobank.com/. UCO Bank Login procedure for New Users, UCO Bank Internet & Mobile Banking Activation.
If you are searching for how to do net banking registration of UCO Bank then you have arrived at a right place. Before knowing what to be done for net banking registration we should go through some points
The facility of net banking or internet banking of UCO Bank is only available or open for either retail customers or personal customers.
All accounts linked with customer id of given account will be linked with the new User Id.
Login I'd and transaction password will be provided to customer.
Once the net banking registration is completed user if will be activated. It may take 2 working days of time.
Online registration is only available to primary account holders.
If it is a joint account Mode of Operation should be Either or Survivor/Former or Survivor/Anyone or Survivor.
For every bank their will predefined requirements to be fulfilled in order to go for net banking registration. Coming to UCO Bank their are some unavoidable checklist to be followed. They are:
For the account for which you are going to create should be in active condition.
That account should be linked to a Debit card which is valid.
Minimum one transaction should take place after the debit card is activated.
Bank account should linked to a mobile number.
Procedure for net banking or online banking registration of UCO Bank.
Offline you can download registration form of net banking and submit in your bank. And you will hey user I'd and password to your registered address or you can opt for online procedure that is show below.
UCO Bank Netbanking Registration and How to create UCO Online Banking
Step 1:
open your browser and go to the official website of UCO Bank. The link for the UCO Bank is http://www.ucobank.com. Once you click on this link a page will be opened as shown in the picture.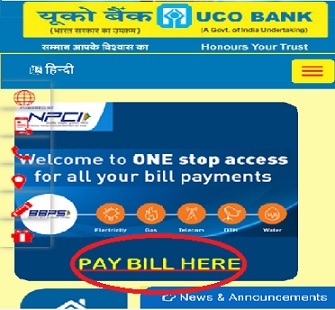 If you go down you will get to see e- banking option. See the picture below to know how the icon of net banking registration of UCO Bank. Click on that link that is written as E-banking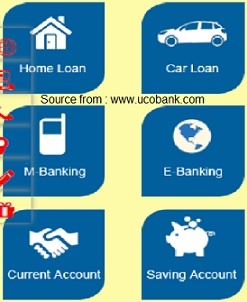 Step 2:
once you click on the link of net banking registration of UCO Bank a small tab with 4 options will pop up. From that you select new registration. So, you will be directed to a page where the registration process will be initiated.

Step 3:
read all the terms and conditions before proceeding to the net banking registration process. The Link for terms and conditions will be on the same page.
Step 4:
Now enter the account number consisting of 15 digits in the column asked for it. Account number usually on the account pass book.
Step 5:
Enter at least one transaction from last five transactions that were transacted recently. If you do not remember your last transactions, please give a missed call on 09213125125 from your registered mobile
Step 6:
now click submit option at below. An OTP that is one time password will be sent to your mobile number that is registered with the UCO Bank. Enter the One time password and you will be registered for your net banking of UCO Bank account.
UCO Bank Net Banking Login procedure
Once you got your user I'd and transaction password you will Access your net banking.
Go to the same official page of UCO Bank and click on E-banking.
Now select login from the tab that will pop up with four options.
You can enter user I'd and password in order to login to your account.
Thank you for reading the article. Hope that the article is useful and informative for you to create net banking registration of UCO Bank.
For more details see the UCO Bank official website at https://www.ucobank.com