Oriental Bank of Commerce OBC Net Banking, Online Services for new users. How to Register OBC Bank Internet Banking and Mobile Banking at obconline.co.in/
With the faster growing banking facilities and networking, the scope of banking sector has raised to a great level and with the evolving changes in the society and the societal needs , the banks are also coming up with the services that make the customers comfortable and satisfied. Of all such services provided by the banks, internet banking is one of such services. Oriental Bank of commerce, one of the public sector banks. The bank offers various services to its customers like internet banking, mobile banking, loan facility, provision of ATM cards and many more.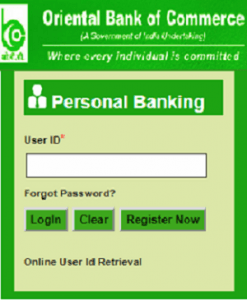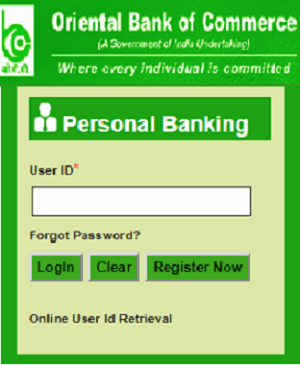 If you are searching for activation of your internet banking for OBC bank then you are just few steps away.
Oriental Bank of Commerce OBC Net Banking Registration
The following steps will lead you to creation of your internet banking services for OBC Bank:
Step 1 :
The first thing you need to make sure is that whether your mobile number is linked to your bank account. If you have already linked then you can proceed for activation of your internet banking services. If you have not linked your mobile number then firstly you need to link up your mobile number to account.
Step 2 :
Once you are sure that your mobile number is linked to the bank account then you need to visit to the official website of the Oriental Bank of commerce, then click on the accounts tab and click on the registration option.
Step 3 :
Once you click on registration option, you will be redirected to a new webpage where there appears the application form for internet banking services, you need to fill in all the details asked for, the details asked will include your name, account number, PAN Card number, date of birth and so on.
Step 4 :
Once you fill in all the details, click verify. After verification of your details, then you will get a login details to your registered mobile number, from then on you can easily have access to your bank account by using bank official website.
Step 5 :
With the details that you received through the message, you can login and have complete access to your account and use it from your doorstep itself.
Various services provided by the Oriental Bank of commerce include the following
Generation of bank statement by customer himself.
Can know the status of cheques and can also stop cheque.
Transfer of funds from one account to other.
Can make NEFT payments.
One can also make payments of electricity, phone bills and also credit card bills and so on.
There is a facility for the customers to book their tickets for airlines or for bus or trains.
You can change your password of your internet banking.
You can also have a clear enquiry of all your financial and non financial activities you have done using your account.
Hope the article is informative about the various services provided by bank through internet and also how to have easy access to internet banking services.